– Master in biology aan Wageningen Universiteit
– Internationaal expert in leiderschapsontwikkeling
– 25+ jaar ervaring als (executive) coach, trainer en begeleider
– Eerste Nederlandse gecertificeerde Leadership Embodiment trainer
Zij schreef drie boeken:
– De Verborgen Dimensie van Leiderschap – Over je beste zelf zijn ook onder druk door lichaam en geest te stroomlijnen (Genomineerd voor Managementboek van het jaar)
– Leiderschap in verandering – Over samen doen wat ertoe doet, vanuit de bedoeling met minder gedoe en meer mooi resultaat.
– Daily Focusplanner – in 3x 5 minuten meer focus, flow en voldoening in je werkdag.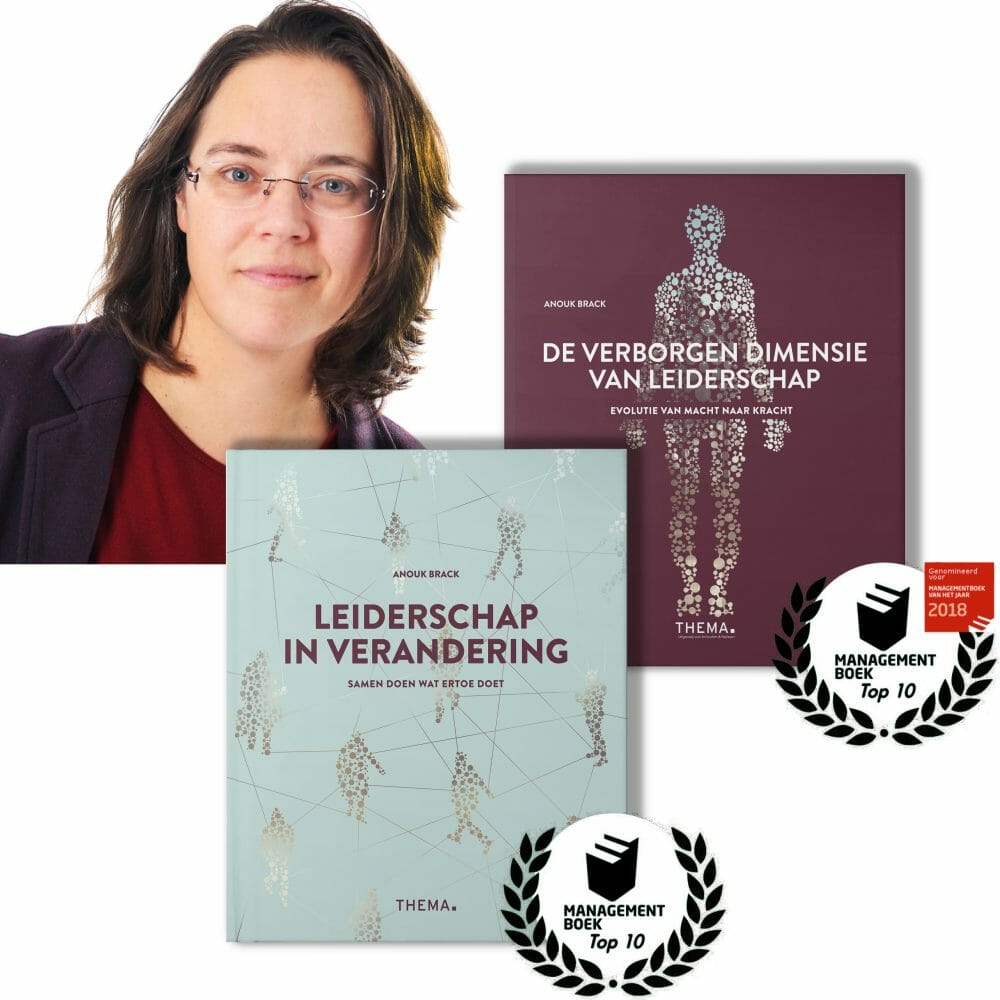 Meld je aan voor de nieuwsbrief van AnoukA en ontvang elke maand tips voor jouw leiderschap. Zo mis je niks.
Gratis minitrainingen
op AnoukA Academy
Wat zeggen klanten over Anouk?
My team and I had the pleasure of working with Anouk whilst we searched for improved ways to work together as a team. As a team we were based in Steenbergen North Brabant in a manufacturing facility. The senior team wanted to find some ways of working that would help build our high performing team and create an inclusive culture with in our team. The tools and techniques that Anouk helped us with really created an atmosphere where openness and mindfulness as at the heart of what we did as a team. The work Anouk did with our leadership team transcended cultures and enabled us to grow together. To this day I and many others use what we had learned from Anouk to help us as leaders. I would highly recommend working with Anouk to support any teams looking change a culture from good to great.
Wil je meer focus en rust in je werk? Dan ben je bij Anouk aan het juiste adres!
Ik heb de gesprekken met Anouk als zeer plezierig en leerzaam ervaren. Vanuit acceptatie en rust jezelf 'herpakken', resetten, was voor mij een nieuwe benadering die mij nieuwe inzichten heeft gegeven, vooral als ik ergens over aan het piekeren was en in kringetjes rond bleef draaien in mijn hoofd, in een neerwaartse spiraal. Bovendien is Anouk zelf de rust zelve en oordeelt nooit. Dat voelde als balsem.
Anique Van Dijck
25/03/2022
Naast de basis- (LEF) en de vervolgtraining (LEI), heb ik ook een individuele jaartraining met Anouk gedaan. In die tijd had ik een managementfunctie in een grote zorgorganisatie. Blijven staan, ook in uitdagende situaties - in mijn geval een masculiene cultuur en in een fusieorganisatie - was een verrijking en verademing. Je leert je eigen stijl vanuit embodied leiderschap kennen, voelen én toepassen. Een aanrader voor iedere leider en ondernemer. De kennis, compassie, situationeel inschattingsvermogen en praktische toepasbaarheid die Anouk je biedt in een individueel jaartraject, werkt!
Brigit Kuypers
20/03/2022
Een aantal jaar geleden voor het eerst een training Leadership Embodiment gedaan bij Anouk. Sindsdien een aantal keer bij haar "op herhaling" geweest: aan de hand van boeken, (mini-)training en zelfs een driedaagse. (Bijna) Dagelijkse beoefening van Leadership Embodiment geeft mij balans, energie en focus. De trainingen met begeleiding van Anouk zorgen iedere keer weer extra inzichten en reflectie, ook dankzij haar wijsheid en humor.
Anneke Krakers
14/03/2022
Het is zo'n plezier om met Anouk te mogen werken en van haar te leren. Ik heb een aantal trainingen en een retreat bij haar gevolgd in Leadership Embodiment. De combinatie van zachtheid en kracht en daarbij de ervaring en wijsheid van Anouk, maken dit iedere keer weer tot een mooie en waardevolle ervaring. Persoonlijk word ik ook heel blij van haar vrolijkheid. Ik wil haar trainingen in Leadership Embodiment van harte aanbevelen.
Plan nu eenvoudig een gesprek in met Anouk rechtstreeks in haar agenda, wanneee het jou uitkomt. Ze ziet ernaar uit met je te spreken.
Je wilt bijvoorbeeld een
Keynote spreker of workshop
– je zoekt een interessante vernieuwende spreker op je congres of masterclass
– je wilt graag een leuke verrassende workshop waar jullie ook nog wat van opsteken tijdens de afdelingsdag of teamdag


Individueel traject of sessie
– Focus – Je hebt bijvoorbeeld behoefte aan meer focus en voldoening en een individueel traject om daarmee aan de slag te gaan lijkt je wel wat
– Leiderschap – Je hebt één van de boeken gelezen (of wilt dat gaan doen) en wil er graag begeleiding bij omdat je weet dat het dan soepeler gaat
Teamontwikkeling
– Je wilt met je (management) team meer gaan werken vanuit de bedoeling met aandacht voor individuele ontwikkeling, teambuilding en effectieve samenwerking (online, offline en hybride)
(Online) koffie drinken – Je wilt gewoon even advies, sparren of bijpraten met Anouk. Wees welkom.
Anouk over Leadership Embodiment