Corona Support
How can we shift our mental and emotional state away from anxiety and worry towards a more resourceful, positive state? In these videos I offer you quick tools and processes to help with just that.
Feel free to share with others so they can support themselves and loved ones in these challenging times. The practices draw on my expertise in Leadership Embodiment, a method for improving our state of being, also under pressure.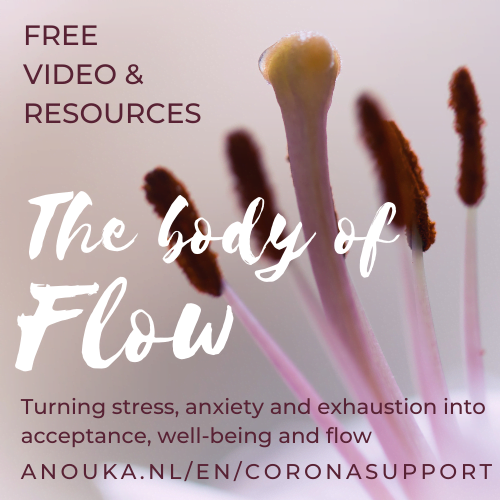 Quick feel good tool: Turbo-centering process with Anouk Brack
Corona stress reduction and gratitude practices
Corona anxiety relief with guided process of Awareness Acceptance Adaptation
Social distancing - How to feel close at a distance - cool trick
How to start online meeting with focus and flow
Practical embodiment for Corona – with Anouk Brack, Alexandra Vilvovskya, and Mark Walsh
See the online embodiment circles
Online Embodiment Circles support wellbeing, learning and connection and are free to all. If you'd like to be with others in a positive virtual environment, reduce your stress, and move a little to support your health, then join in.
Work in health care anywhere?
Check out this free support 'bitesize stress management for health care professionals'
Interested in individual online coaching or mentoring with Anouk Brack?
Book a short free online session with Anouk and find out if there's a good match. She will advice you what would be the best next step for your development wish. You can go on a learning journey together or book just one session. Anouk is also available for facilitating team meetings online.
Examples of topics are
– Moving from stress to flow
– Leadership Embodiment
– Embodying authentic leadership in challenging times,
– leadership development in three dimensions of skill, stage and state
– coach the coach / train the trainer – Mentoring on how to bring embodied leadership practices into organisations, both online and offline